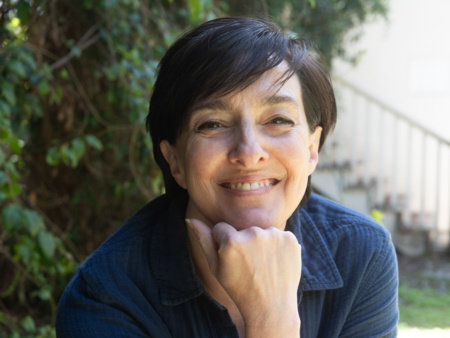 (Whoops, it's on a Sunday…but isn't Sunday a second-Saturday anyway?)
Abbi Waxman – author, copywriter, dog-mom, and previous ghost-writer – began life in England, before settling Los Angeles with her husband and three kids.
She worked for quite a while as a copywriter like her mother before her, then as a creative director at a myriad of advertising agencies. It was only after she ghost-wrote Nicole Ritchie's novel that she decided to leave advertising altogether and try her hand at writing professionally.
Abbi Waxman's first book, The Garden of Small Beginnings, follows the surprisingly humorous  life of a young widow as she learns to live again. Then she published Other People's Houses, in which secrets are exposed, moral minefields are navigated and absolute hilarity follows.
Most recently, Waxman published Bookish Life of Nina Hill – an absolutely delightful foray into the literary world. Nina Hill is the sort of woman who likes her bubble. Everything is where it should be, her job at the neighborhood bookstore is going comfortably nowhere and her love for lit is at an all-time high.
Only. Something happens to shake it all up.
Her father dies. She's never met him but quickly realizes where there's a funeral, there's family. Lots of family. How will Nina survive the onslaught of aunts and uncles and cousins and nieces and nephews? All the while keeping her trivia game on point AND finding a way to keep her once-totally-secure-job?
I've had the pleasure and honor of reading and reviewing The Bookish Life of Nina Hill and allow me to assure you – it was perfect!
I was so incredibly excited and delighted when Abbi agreed to be interviewed! Without further ado, here's Seven Questions on a Saturday Sunday!
1) What does a typical day of writing look like for you?
Well, that's a good question. There isn't really a typical day, so I'll describe an ideal day.
On an ideal day I would have gone to bed early the night before and would therefore arise at 5 as chirpy as a lark. I would then drive over to the writer's space where I work (yes, I live in that kind of neighborhood, where writers are as thick on the ground as dandelions). I would make coffee, sit at my favorite desk (the one in the corner, of course) and create deathless prose that surprises even myself. I would know exactly where the book was going, and how I was going to get there. I would be able to capture the evanescent moods of mid-life and pin them to the page. After three hours or so of that I would go home, where all my children would have cleaned their own rooms before magically getting themselves to school. There I would take a brief nap, and read books until I had to go get the little buggers at the end of the day.
A more typical day finds me driving the kids to school in a panic of forgotten homework and field-trip permission slips, then trying to squeeze some creativity out of a head that has already been irritated by twenty stupid things. I will have zero idea where the book is going and only the vaguest confidence that I'm going to be able to get there. Impending doom fills my rear-view mirror. Then I'll go home and do the laundry. Over and over again. And also probably clean up cat vomit, dog poop, and the fourteen dirty socks my husband has buried under the bed.
2) Your most recent book, The Bookish Life of Nina Hill, follows Nina, a literary lover, as she discovers lost family, conquers a trivia nemesis and comes out of her bookish shell. What was your favorite scene in the book? What was the most challenging part about writing it?
I liked writing the trivia battles, because they were super fun and I got to feel clever. I also like writing any scenes where there's an animal. Kids and animals, those are always my favorite characters. The most challenging part of any book is not giving up the twenty seven times you feel like quitting.
3)  Is there anything you know now that you wish you knew when you began your literary career? What are the top three pieces of advice you would give your younger self?
I wish I'd known how much everything I was doing was going to be useful one day, in some form or another. Nothing is wasted, no experience is too good, bad, trivial, important, sexy, repulsive, delicious, or forgettable. It's all material, so don't waste time worrying about wasting time. I was lucky because I had a career (advertising copywriter) that basically meant I got paid to practice. Every artist should take any work that lets them do their thing, whatever it is. The more crap you write, the better crap you'll be able to write. Don't be a snob about work, it's such a dick move.
Three top pieces of advice for my younger self?
Be naked more, you're never going to look this good again.
Say yes to everything, you lazy little bugger.
Don't say yes to Steve, he gives you herpes.
4) One thing I am always curious about is what authors edit out of their books. Have you ever edited something out of one of your books that you later regretted?
I am constantly throwing stuff out of my work, whole situations, entire characters, etc, and I never regret it for a moment. If it's good it'll show up somewhere else, and if it's crap then good riddance.
5) Who is (are) your favorite author(s) and how have they inspired your writing?
Oh, so many. I love to read classic mysteries, because they're very satisfying and the best ones are fantastically well-written. Agatha Christie, Dorothy Sayers, Patricia Wentworth, Margery Allingham, Ngaio Marsh, Rex Stout. And I really, really admire non-fiction writers who make their subjects compelling: Michael Lewis, Susan Orlean, Malcolm Gladwell, the combined geniuses at The New Yorker… when I'm working on a book I only read mysteries and non-fiction. And my very favorite author of all time is my mother, Paula Gosling, who wrote successful murder mysteries throughout my childhood and was the most important inspiration of all, largely because I grew up knowing it was possible to make a life as a writer, as long as you put in the effort.
6) How has your writing style or approach to writing changed from your first book to your most recent one? 
I hope I've gotten better with each book, but I think what I've really gotten is more
confident that it's ok to say whatever's in my head. That also just comes with age, of course. At nearly fifty I really couldn't give less of a flying dog's fart if anyone agrees with me.
7) When you aren't writing, what are you doing for fun?
Sleeping. Reading. Watching Love Island with my kids.
Interested in connecting with Abbion social media? Check out her:
Website |  Facebook  |  Twitter  |  Instagram  |  Amazon Author Page |  Goodreads
Interested in her book? Check it out!!
The Garden of New Beginnings — Goodreads   |   Amazon
Other People's Houses — Goodreads   |   Amazon
The Bookish Life of Nina Hill — Goodreads   |   Amazon   |   My Review